Immediate Arts Collective, Summer FUNdTastic Festival
July 30 @ 1:00 pm

-

11:00 pm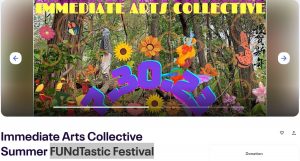 True Mirrors in support of a very unique art project July 30
About this event
Immediate Arts Collective is founded on awareness, connection, laughing, playing, crying, and being. We are seekers of love and communication that brings clarity and qualities of natural giving. We are a collective of people who do not believe in the game of right or wrong. We believe in the game of how to live a wonderful life. Our goal is to find ways to rid of guilt and shame through the learning of how children are so immediate, natural, and authentic. We do it for the kids and for the adults by learning from the kids.
Call it a party, a festival, a fair, a healing circle, a gathering, a fundraiser…..maybe all the above. On July 30th we are bringing what we already know and do to the table.
We're looking for you to join and partake in the fun, the play, the laugh, the extravaganza, the healing, and the peeling back.
All for one, one for all, all as one, and all as none.
Suggested donations only.
The only profit we make is from your smiles, connection, love, gratitude, and belly laughs.
*bring your instruments*
Our goal is to make this a zero-waste event. Please follow all guidelines on leaving no trace.
We like to live with no expectations but you can expect to see;
Primalation
Yoga
True Mirror
Meditation
Ecstatic dance/contact improv
Primal organic group dance improvisation
Song circles
Painting of the bus
Painting of the face
Good food and drinks
Drum Circle
Healing circles
Listening stations
Cuddle puddles
Workshops on Non-Verbal Communication, Non-Vilent Communication, Creative Mindset, Ayurvedic Health
Performances by; W.A.Q., Hakadosh Baruch Blues Band, This Is The Band, free jams & open mic, and more!